The culture of bullying develops from young.
The education system in Malaysia is the best platform to groom bullies
The environment system provided by UMNO Government encourages bullying.
The funds provided by Najib Tun Razak and Tengku Adnan encourages the growing numbers of bullies.
The power given to wrong people to control others.
The game of Race and Religion encourage by politicians support bullying.
One setting example that is now openly encourage and given much publicity isTN50. TN50 is a platform to show that the UMNO Government is listening but in actual fact it is a publicity and marketing plan to promote just one person by the name of Najib Tun Razak the pariah man in time for GE14 to save his arse so that he can go into exile to another country instead of Sungei Buloh.
I am saddened that TN50 has gone down to its knee to the drug addicts so that they can get another RM10 million into their pockets.
Yes TN50 is about making money for certain people before the era of Najib comes to an end and they have only 6 months more to play with.
TN50 should never make use of drug addicts for their publicity stunt.
Drug addicts need a better system to help them back to society.
So far TN50 has make five (5) people overnight millionaire.
How much has Najib given TN50?
RM32 million. Not bad for starting the SLAP CULTURE.
*****************************************************
A first-of-its-kind TN50 dialogue session was held with 70 active drug users in Chow Kit, Kuala Lumpur, last night.
Fauziah Abdullah, one of the few women at the session, stood up to speak. She has been drug dependent for 40 years.
"I am 52-years-old this year and I have no IC (identification card)," she said.
She lived on the streets when she was still in her teens after running away from her foster parents who used her as a maid, she explained. She has never met her real parents and thus has no access to any personal identification documents.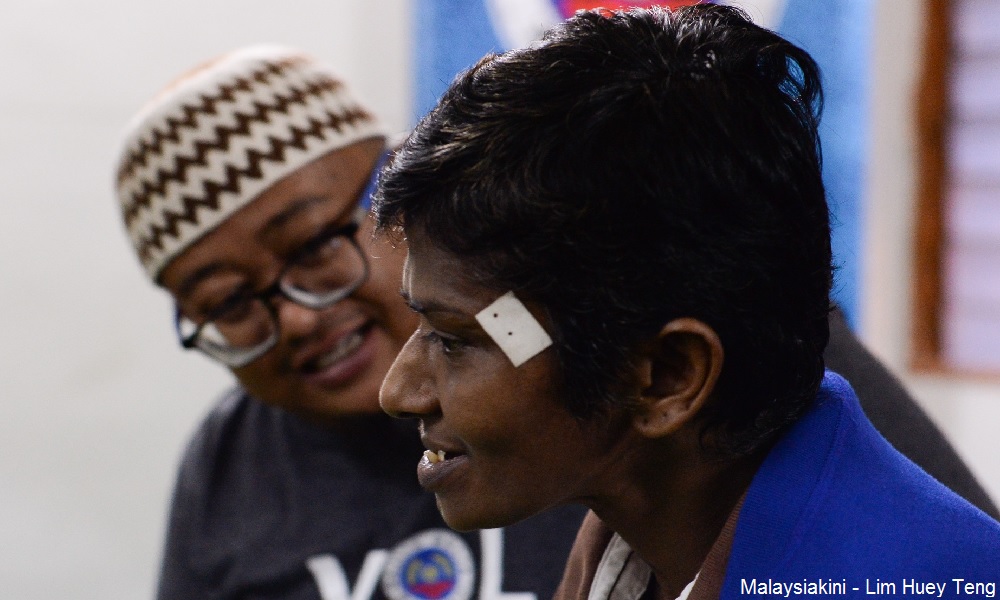 Fauziah started to tear and said she was too unwell to be speaking in front of a crowd. Moderator Mohammad Rizan Hassan gently egged her on.
"I have heart problems, asthma and chronic high blood pressure but I have trouble getting treatment because I have no IC," she said before sitting down on the green and yellow tikar (mat) on the floor
Transformasi Nasional 2050 (TN50) has since the start of the year called upon Malaysians to share their aspirations for the future of the country.
More than 33,000 aspirations have been recorded so far from 13 TN50 townhall-style dialogue sessions held across the nation with university students, young professionals, government servants, even celebrities.
However, many other strata of the society have yet to be heard.
Unlike the big halls used at previous TN50 sessions, participants in yesterday's session voiced their aspirations on the first floor of a drop-in centre for the drug-dependent and homeless.
There were no banners, no circular centre stage, no large television screens. No one wore head-mounted microphones...