For several days I have tried coming up with a suitable name to address a bunch of corrupted fools in my own country trying not to harm the Malays but failed to.
One episode then, another episode then after and another episode today of stupidity proving how useless the Malays have become.
Every incident bring us closer to the truth that today we are not safe in the hands of our own people.
Yonhap reported Kim Jong Nam was killed in Malaysia, early morning on 14th February 2017.
Aljazeera reported Kim Jong Nam was killed on 14th February 2017.
TV Chosun reported Kim Jong Nam was poisoned on 14th February 2017.
Malaysian Police reported unidentified North Korean died en route to hospital from Kuala Lumpur on 14th February 2017.
On Facebook round the world everyone knew Kim Jong Nam was murdered on 14th February 2017.
It took PDRM, Home Minister and my pariah Prime Minister two (2) days later to confirm that Kim Jong Nam was indeed killed at KLIA 2. Even then there was no urgency to lock down KLIA 2 to sweep for poison.
If indeed Kim Jong Nam was poisoned with VX Nerve Agent then passengers and visitors in KLIA 2 were already exposure to it on 14th February 2017 till 26th February 2017.
Today 27th February 2017 it was reported in all Malaysian News Media and what not that KLIA2 is cleared of VX Nerve Agent. Even concrete evidence can disappear after a lapse of 12 days. So why waste time, money and energy on a useless task.
This clearly shows PDRM, Home Ministry and others involved in this stupid drama are not fit for the job of looking after my beloved nation. Very sad indeed.
The two girls who were supposedly involved in killing Kim Jong Nam with VX Nerve Agent using bare hands and exposed nostrils must be super immune to such poison.
PDRM has a habit of not looking or should I say do a proper investigation into any crime. PDRM are a happy lot fitting incorrect puzzle to make them smart in closing cases fastest, most times they even kill innocent victims to give false confession.
Incident like the disappearance of MH370 also took two days before the authorities realized what happened. Not enough Malaysia had to spend over RM300 million searching for the plane at the wrong place. Till today Malaysian Authorities refused to admit their error or right the wrong decision made.
Pastor Raymond abduction is another hot case that PDRM cannot handle. It is very suspicious that it took weeks before IGP woke up from his slumber land. By now Pastor Raymond would have been killed in similar fashion like Kevin Morais.
Today PDRM, Home Ministry and other authorities are run by people whose priority is to enrich themselves.
Today Malaysia is run by criminals, fools, murderers and paid dogs who sells their body and souls for the right price.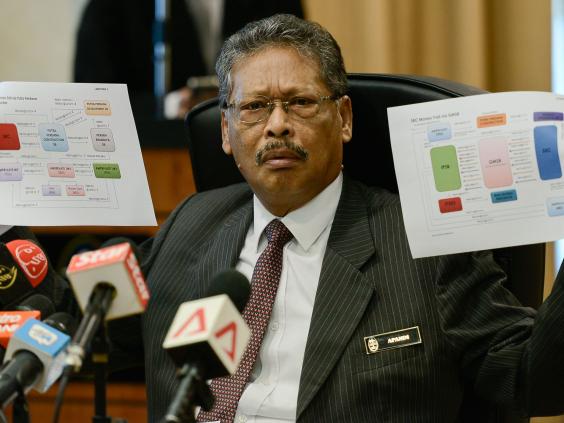 ALL TOP POSITIONS ARE GIVEN TO THE MALAYS.
ALL TOP POSITIONS ARE HELD BY THE MUSLIM.
ALL CRIMINAL ACTIVITIES ARE RUN BY UMNO MEMBERS.
UMNO PARTY IS ONLY FOR THE MALAYS AND MAMAK MUSLIM WHO CANNOT WORK.
IT IS THE MALAY AND THE MUSLIM OF MALAYSIA THAT BRING RUIN TO ITS OWN NATION.
DO NOT BLAME THE NON MALAY AND NON MUSIM, IT IS THE MALAY AND MUSLIM OF MALAYSIA THAT PUT THE NATION IN SHAME AND IN RUIN.
***********************************************************