FOR TOO LONG WE SPEND AND SPEND JUST SO THE CRONIES OF UMNO CAN GET RICH, ROYALTY CAN GET RICH, MILITARY CAN GET RICH, PDRM CAN GET RICH, JAKIM HYPOCRITES CAN GET RICH, JUDGES CAN GET RICH EVEN GANGSTERS AND BOMOHS CAN GET RICH IF YOU ARE AN UMNO SUPORTER.
I HONESTLY BELIEVE THAT ONE DAY ALL MALAYSIANS WILL BE SOLD OFF AS SLAVES BY UMNO CRONIES.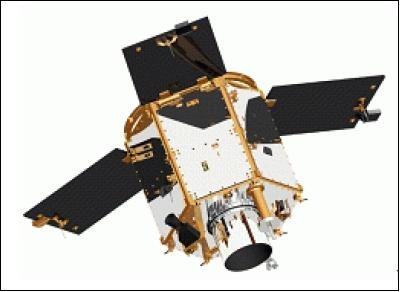 Satelit RazakSAT | Lancar 2009. Tamat operasi 2010 kerana masalah teknikal. Kini terapung di orbit tanpa fungsi

RazakSAT dilancarkan 14/7/2009 menggunakan roket USA Falcon-1 di Kwajalein Atoll, Pulau Marshalls, Lautan Pasifik.
Sumber
Satelit RazakSat | Projek Kerajaan Persekutuan BN. Gagal beroperasi. Rugi lebih RM140 juta. Masih terapung di orbit.
MASALAH TEKNIKAL : Di orbit, imej drp RazakSAT tersasar dari lokasi yg sepatutnya dicerap. Jarak ketepatan patut kurang drp 1 km. Tapi tersasar hingga 37 km.
Pelancaran Satelit RazakSAT
Pelancaran Satelit RazakSAT, yang bakal dilakukan pada hari Selasa ini dari Kwajalein Atolldi Republik Marshall Islands menimbulkan"berbagai spekulasi" dihati rakyat. Malah pelancaran yang dibuat bersamaan dengan tarikh pembuangan undi pilihanraya kecil Manek Urai itu juga dilihat seolah-olah satu strategi terakhir untuk kerajaan UMNO dan BN menunjukkan betapa majunya parti itu kepada rakyat. Satelit RazakSAT bersama kenderaan pelancarnya, Falcon 1, yang dikendalikan oleh Space Explortion Technologies Amerika (SpaceX) ketika ini sudah ditempatkan di pad pelancaran di Pulau Omelek, yang merupakan tapak pelancaran.
Dalam erti kata lain, apakah motif utama pelancaran satelit itu sebenarnya?. Apakah tidak cukup dengan setelit Measat, yang telah dilancarkan suatu ketika dulu?. Malah, kita juga melihat apakah motif kerajaan UMNO dan BN sanggup menghabiskan wang hampir ratusan juta ringgit semata-mata untuk menghantar seorang manusia bernama Dr.Syed Muzaffar ke angkasa lepas?. Apa faedah yang telah disumbangkannya selepas kembali ke bumi?. Bukankah ini satu pembaziran yang amat nyata oleh puak-puak UMNO sebenarnya. Rakyat perlu melihat semua ini dari sudut "pembelaan" buat rakyat. Pelancaran RazakSAT, Measat dan angkasawan pertama Malaysia itu langsung tidak bermakna dihati rakyat. Adalah lebih baik wang jutaan ringgit itu digunakan untuk membantu mengeluarkan kehidupan rakyat negara ini daripada kemiskinan tegar. Ramai lagi rakyat yang hidup dalam kedaifan dan kesengsaraan !!
Kerajaan lulus RM271.9 juta pembangunan RazakSAT-2

KUALA LUMPUR 26 Sept. - Kerajaan telah meluluskan peruntukkan sebanyak RM271.9 juta untuk program pembangunan satelit RazakSAT-2 iaitu sebuah satelit penderiaan jauh bagi memantau permukaan bumi.

Timbalan Menteri Sains, Teknologi dan Inovasi, Datuk Dr. Abu Bakar Mohamad Diah berkata, peruntukan itu merangkumi pembangunan; pengujian dan pelancaran satelit; pembinaan stesen bumi kedua di Tuaran, Sabah; penambahbaikan stesen bumi di Sungai Lang, Banting, Selangor; pembangunan modal insan serta aktiviti kajian ahli lembaga.

Katanya, pembangunan satelit RazakSAT-2 dijangka mengambil masa selama tiga tahun dan pelancarannya adalah berdasarkan kepada peluang pelancaran yang disediakan oleh pembekal perkhidmatan pelancaran.

"Satelit RazakSAT-2 dijadual beroperasi di orbit pada 2016," katanya ketika menjawab soalan asal Sim Chee Keong (DAP-Bukit Mertajam) yang ingin tahu perkembangan projek RazakSat-2 dalam sidang Dewan Rakyat hari ini.

Abu Bakar berkata, projek itu masih lagi di peringkat pemilihan rakan teknologi untuk bekerjasama dengan sebuah syarikat Menteri Kewangan Yang Diperbadankan (MKD) iaitu Astronautic Technology (M) Sdn. Bhd. (ATSB) yang berfungsi sebagai kontraktor rasmi pembangunan satelit RazakSAT-2.

"Rakan teknologi akan terlibat dalam kerja membentuk, pembuatan, pengujian dan pelancaran serta pengoperasian satelit tersebut," katanya.
Jelas beliau, teknologi satelit yang bakal digunakan adalah antara yang terkini terdapat di pasaran semasa.

"Resolusi kamera pada RazakSAT-2 adalah lebih baik dari RazakSAT-1," katanya.
Artikel Penuh: sini
Lagi fakta-fakta menarik tentang satelit & KEHILANGAN MH370........
Thailand negara ke-7 yang laporkan satelitnya nampak objek di Lautan Hindi. Sebelum ni China, US, UK, Perancis, Australia & Jepun.
Ops SAR mula cari dari Laut China Selatan. Pastu Laut Andaman, Selat Melaka. Kini tumpu di selatan Lautan Hindi kerana mendapat laporan daripada satelit-satelit tersebut.
Berapa satelit di atas sana? Sejak USSR lancar Sputnik-1 pada 1957, dah 6,578 satelit dilancarkan. Ada satelit negara dan ada milik swasta.
6,578 satelit dilancar sejak 1957. Cuma 3,700 yg masih orbit keliling bumi. Daripada itu, 1,100 satelit masih aktif dan 2,600 dah tak berfungsi.
Apa fungsi satelit? Berfaedah bantu pelayaran, penerbangan, perhubungan, kajian sains, ramalan cuaca & pertahanan. Ada juga utk pengintipan!
1,100 satelit masih aktif orbit. Menurut rekod antarabangsa, US 502, Russia 118, China 116. Selebihnya negara-negara lain termasuk Malaysia.
Ops SAR MH370 kini bergantung kepada data & imej satelit negara2 tertentu ke stesen2 pengesan di bumi utk analisa. Mana pergi satelit Malaysia?
Satelit Malaysia yg dah dilancarkan, baik milik Kerajaan Persekutuan mau syarikat swasta (Astro) semuanya 6 buah: Kerajaan 2 & Astro 4
Satelit Malaysia ada 6 di orbit. Milik Kerajaan 2 buah: TiungSAT-1 & RazakSAT. Milik Astro: Measat-1, Measat-2, Measat-3 & Measat-3A.
Astro syarikat swasta. Dah lancar 4 satelit. Mei 2014 ni akan lancar lagi yg ke5..Measat-3B dgn kos RM1.25b. Camna Astro ada lesen satelit?
Astro ni syarikat swasta milik Ananda Krishnan, kroni Mahathir yg luluskan satelit Astro. Kini Ananda Krishnan kayaraya. No.2 di Malaysia.
Kekayaan Ananda Krishnan kini RM11.3b. Terkaya No.2 di Malaysia, No.82 di dunia. Walau miliki 4 satelit, tak leh guna untuk ops SAR MH370.
Bukan salah Ananda Krishnan, 4 satelitnya tak leh pakai utk ops MH370. Kerna satelit2 dia utk pancar signal TV. Untuk bisnes. Buat duit.
Satelit2 Ananda Krishnan kroni Mahathir utk bisnis Astro. Pendapatan Astro suku tahun ke 3 2013 berjumlah RM1.217b. Untung bersih RM123.7j.
Kerajaan Malaysia miliki dua satelit: TiungSAT dan RazakSAT. Apa peranan dlm ops MH370? Jawapannya..menambahkan kemaluan. Memalukan!
Malaysia miliki 6 satelit: K'jaan 2, Astro 4. Thailand cuma miliki 4 tp berjaya kesan 300 objek dlm misi SAR MH370. Satelit Malaysia? Zero!
Apa status satelit Kerajaan dlm ops SAR MH370? Takyah kita persoalkan satelit Ananda Krishnan kerana dia swasta buat duit. Satelit kerajaan?
Hingga ke pagi aku kaji apa fungsi dua satelit Kerajaan Malaysia. TiungSAT dan RazakSAT. Aku baca bagai2 laporan statusnya. Rupanya kantoi!
Pada 10/5/1997 Kerajaan Malaysia menubuhkan Astronautic Technology (M) Sdn Bhd (ASTB) utk tumpuan dlm penyelidikan & pembangunan satelit.
ASTB syarikat milik penuh Kerajaan melalui Menteri Kewangan Diperbadankan. Modal dibenarkan RM50j & modal berbayar RM33.58j. Kabinet lulus.
Aktiviti ASTB milik Kerajaan ni berkembang hingga diberi Geran Kerajaan untuk program satelit negara..TiungSAT & RazakSAT. Akaunnya di audit.
Segala fakta dan info berkenaan ASTB dan status program satelit itu bersumberkan laporan yg dibentang di Parlimen 24/10/2011.
Satelit RazakSAT siap dibina oleh ASTB dgn geran kerajaan berjumlah RM141.78j pada 2005. Ia dilancarkan ke angkasa pada 14/7/2009.
Satelit RazakSAT dilancar 2009 dgn tujuan merakam imej satelit dgn upaya resolusi pengimejan sehingga 2.5m. Ia gagal berfungsi sepenuhnya.
Satelit RazakSAT gagal berfungsi sepenuhnya pd 30/8/2010, iaitu 1 tahun 16 hari dari tarikh pelancarannya pd 14/7/2009. Rugi saja RM141.78j.
Mengikut program, RazakSAT hantar data satelit yg akan diterima stesen bumi Agensi Remote Sensing Malaysia (ARSM) di Temerloh, Pahang.
RazakSAT kirim data 1,328 imej yg didapati kabur, tak capai resolusi pengimejan 2.5m. Tak tepati spesikasi. Lalu direjek ARSM. Kes 2010.
Dlm rekabentuk 'Image Receiving & Processing System' (IRPS) untuk satelit RazakSAT, imejnya ditetap dlm jarak ketepatan kurang drp 1 km.
Di orbit, imej drp RazakSAT tersasar dari lokasi yg sepatutnya dicerap. Jarak ketepatan patut kurang drp 1 km. Tapi tersasar hingga 37 km. Contoh tak tepat imej drp satelit RazakSAT begini. Imej yg sepatutnya dicerap Subang, tapi data kirimannya Kuala Selangor. Tersasar jauh.
Satelit RazakSAT alami masalah gagal beroperasi. Ia ditamatkan Disember 2010 tanpa penambahbaikan. Kini terapung2 di orbit takda fungsi.
Berapa ramai rakyat Malaysia tahu negara miliki satelit RazakSAT? Berapa ramai pula yg tahu ia ditamatkan kerana alami masalah teknikal?
Satelit RazakSat | Projek Kerajaan Persekutuan BN. Gagal beroperasi. Rugi lbh RM140 juta. Masih terapung di orbit. Mana Bomoh 1Malaysia?
RazakSAT dilancarkan 14/7/2009 menggunakan roket USA Falcon-1 di Kwajalein Atoll, Pulau Marshalls, Lautan Pasifik.
Satelit RazakSAT | Lancar 2009. Tamat operasi 2010 kerana masalah teknikal. Kini terapung di orbit tanpa fungsi.
Credit : Twitter Abd Malek Hussin. Pertugas di Pej Ketua Pembangkang Parlimen.
*************************************************************************************************
KUALA LUMPUR, Oct 24 — Malfunctions barely a year after the RM142 million RazakSAT satellite was launched caused it to take 1,328 unusable mapping images that were inaccurate by up to 37km, the Auditor-General's report showed today.
The report made available today said state-owned Astronautic Technology Sdn Bhd (ATSB), which operates RazakSAT, lost RM10.89 million in 2009, of which RM7.7 million went towards insurance premiums for the faulty satellite.
"The operational lifespan of RazakSAT is three years. But the RazakSAT satellite failed to function fully on August 30, 2010, a year and sixteen days from launch date," Auditor-General Tan Sri Ambrin Buang wrote.
The Auditor General added that the remote sensing satellite was designed to "capture images within 1km accuracy" but "an image of an area in Sungai Buloh and Subang missed by 37km and captured Kuala Selangor."
As a result, 1,328 high-resolution images could not be used for the project's stated objective of providing remote information for land development, forestry and fish migration.
ATSB had promised to deliver images from the satellite, touted as the world's first remote sensing satellite launched into near equatorial orbit (NEqO), last year but have yet to release any pictures.
Its orbit allows RazakSAT to revisit some parts of Malaysia every 90 minutes, instead of once every two weeks as is normal with sun-synchronous optical satellites.
The Auditor-General said that ATSB, which built the satellite with a RM141.8 million government grant, had made corrections to the satellite but only reduced the level of error by between 2.4 and 22km.
The report said efforts to improve RazakSAT's accuracy were terminated in December 2010 and "the payment to ATSB was settled for a RM650,000 discount from the total project price of RM5.96 million."
"Based on the feedback from ATSB, the RazakSAT satellite is a research and development project and not a commercial project," the audit added.
ATSB's website calls the RazakSAT project a "cost-effective high resolution imaging system for Earth observation specifically for a small satellite (weighing) less than 200kg".