Sunday, January 15, 2017
Posted by

dian
at 2:27 AM
No comments:

Carian SSM sahkan Annuar Musa pemilik The Red Warriors Sdn Bhd
DALAM satu kiriman di halaman facebook miliknya, Tan Sri Annuar Musa mendakwa bahawa The Red Warrior, TRW bukan miliknya, namun carian di SSM menunjukkan perkara sebaliknya, sekaligus membuktikan bahawa beliau berbohong.
Hasil carian di Suruhanjaya Syarikat Malaysia, SSM menunjukkan bahawa The Red Warriors Sdn Bhd dengan nombor pendaftaran 932459-X tertera nama Tan Sri Annuar Musa sebagai salah seorang Pengarah (directors).
Selain itu, beliau merupakan penama pertama dalam syarikat tersebut, yang namanya didaftarkan pada tarikh 13 Febuari 2011, enam tahun yang lalu yang turut merupakan pemegang 'share'.
Nama The Red Warriors Sdn Bhd mula menjadi bualan selepas Tunku Mahkota Johor (TMJ), Tunku Ismail Sultan Ibrahim mendedahkan dokumen-dokumen yang tertera nama syarikat itu mendakwa berlaku penyalahgunaan dana untuk menaja Pasukan Bola Sepak Kelantan.
TMJ mendakwa dana dari MARA dan UniKL disalahguna untuk menaja pasukan bola sepak Kelantan.
Justeru orang ramai mula tertanya-tanya siapakah sebenarnya pemilik The Red Warriors Sdn Bhd, TRW menyebabkan carian terhadap maklumat syarikat itu dibuat di SSM, sekaligus mendedahkan nama-nama pemiliknya.
Jadi di sini nampaknya jelas berlaku 'conflict of interest' dalam penajaan The Red Warriors.
Mana tidaknya, Tan Sri Annuar Musa adalah Pengerusi MARA, UniKL merupakan milik penuh MARA, dalam masa yang sama beliau juga adalah presiden KAFA, dan terbaru didedahkan sebagai salah seorang pemilik The Red Warriors Sdn Bhd.
Oleh itu memang selayaknya satu siasatan dibuat terhadap beliau.


Read more: http://www.milosuam.net/2017/01/carian-ssm-sahkan-annuar-musa-pemilik.html#ixzz4VlGqUdhX
Posted by

dian
at 2:20 AM
No comments:

FUCK MACC
FUCK PDRM
FUCK AG
FUCK UMNO
FUCK MALAY
FUCK NAJIB RAZAK AND ROSMAH MANSOR
FUCK UMNO BLOGGERS
FUCK UMNO MEDIA
FUCK THOSE PARENTS WHO HAVE INCREDIBLE CORRUPTED CHILDREN
Posted by

dian
at 12:56 AM
No comments:

Friday, January 13, 2017
Why are Royalty, Politicians from UMNO, Greedy wives and children, Pariah Dogs and Elite be protected from remarks, insult and crime. Public should be allow to put forward their unhappiness, frustration and whatever that affect their lives. Why are Royalty, Politicians from UMNO, Greedy wives and children, Pariah Dogs and Elite be treated like semi Gods.
Today we can see for ourselves the misdeed done by our Royalty, Politicians from UMNO, Greedy wives and children, Pariah Dogs and Elite. These group of arrogant bastards openly insult our well being every single day and every single minute.
Without these group of bastards, Malaysia would have been a well develop nation in South East Asia instead today we are going back in time. For Malaysia to get out from this sad situation will take another two to five centuries. As long as UMNO continues to misuse their position and power, there is no hope to move forward.
How many millions were given to the last three Agongs when they were in Kuala Lumpur. Did the people from Perlis, Terrengganu and Kedah benefitted from the hundred millions and project given to the Agongs? What about the billion donated to Pahang Royal House?
Zakat donation are money given by the Rakyat for the poor. How much of that actually went to the unfortunate ones. Instead Zakat is siphoned off to the rich and famous.
UMNO Politicians and Pariah Dogs have been insulting the Non Muslim and women daily in Public and Parliament and none have been punish for their stupidity.
The misused of agencies to protect the untouchable ones are growing bigger and bigger. Today even talking opening in public can get one investigated. Cartoonists are treated like terrorists while Islamic Freak, paid bloggers and gangsters are given a helping hand by AG and PDRM.
Today IGP, AG, MACC chief, PAC, Army Chief and BN chief have become millionaire just by following the orders of the Prime Minister and his wife. Today none need to work for the nation.
I am very sad to learn that a 19 years old boy has to be send to a reform school just for making a remark against the untouchable one and another sentence to jail.
Why are criminals like my Prime Minister and his wife, cabinet ministers who are into human trafficking, selling of illegal arms, drugs and prostitution and running illegal gambling den that greatly affect the Malay youth today and nation be protected at all cost.
Where is the moral responsibility in those sitting on top?
Today many Malaysians do no respect the ones sitting on the untouchable chairs.
I have one last thing to say.
What has the one who just die did for Sarawakians? Did the unfortunate ones get proper bridges for them to go to schools? Did the unfortunate ones get a clinic with doctors and nurse and medicine within a walking distance to their homes? Did the unfortunate ones get electricity and water in their huts? Did the unfortunate ones get decent home to sleep in? Sarawak did not improve much from the old heck to the one who died. The one who just departed has got himself the best PR team to boast his position, similar to the way Pak Lah got his Mr Clean image when in office. Using money and position to create a pure image is a bigger sin than a murderer.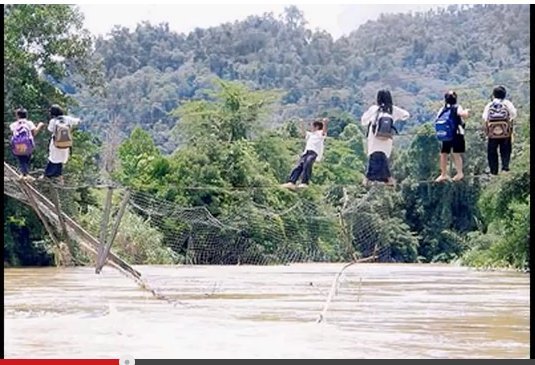 Posted by

dian
at 7:40 PM
No comments: