Lesbian Azlina wanted the post of Wanita UMNO Chief badly so she created Puteri UMNO to service the men in UMNO. To the young and eager Malay girls who love free luxury items, free holiday, free accommodation and everything free it was a winning game for both the men who can afford throwing money and young Malay girls and Azlina.
When Shahrizat became Wanita Chief she brought a new meaning to Puteri UMNO making them high class prostitutes. Puteri UMNO were sent overseas to get fuck. These girls also have the opportunity to service foreign delegates and Royalty.
Seeing how the girls have great time, Shahrizat and Rosmah joined the game but mostly with lawyers and foreign Artiste.
Tun told me that he has slept with almost 400 Puteri UMNO when he was in the Cabinet and he is not alone.
Today I can safely announce ANY VIRGIN JOINS PUTERI UMNO CANNOT LAST MORE THAN A WEEK AS ONE.
******************************************************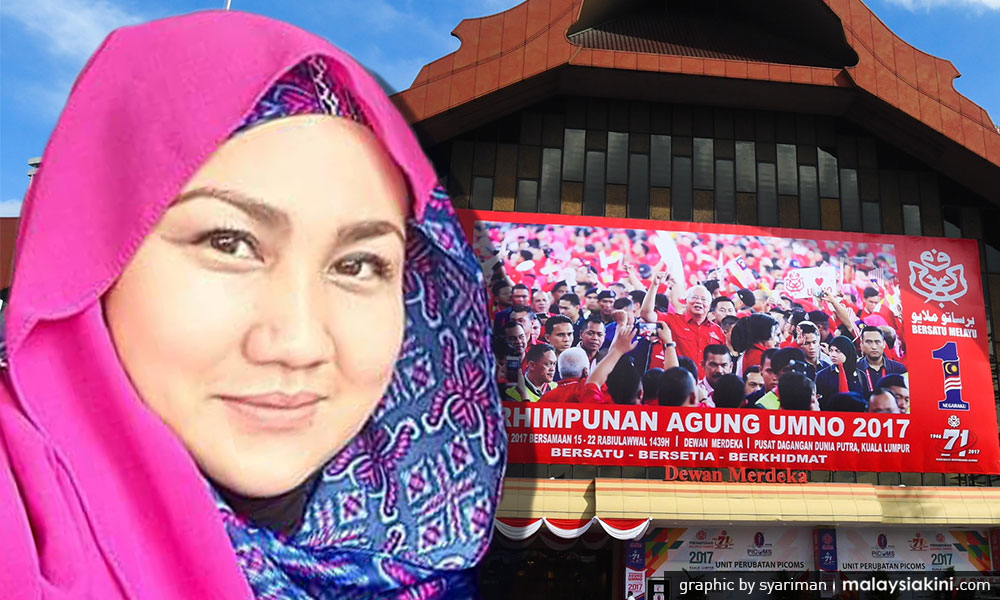 Khalwat goes on during Umno AGM every year, claims ex-Puteri Umno
A former Klang Umno Puteri committee member claimed that many cases of khalwat (close proximity) occur every time the Umno AGM comes around.
Wan Asshima Kamaruddin, who is now a PAS member, said this is based on her 17-year experience in Umno.
"I challenge the Federal Territories Islamic Religious Department (Jawi) to carry out huge raids to arrest those engaging in khalwat.
"How many couples are engaging in khalwat, how many couples are non-Muslims (committing khalwat) with Muslims," she said, as reported by Harakah Daily today.
Wan Asshima stated that she is revealing this now because she no longer wants to abet the "immoral" acts allegedly occurring at the Umno AGM.
"We can see there, how many wives of people, and husbands of people are in one room.
"If I were to say anything, they'd say I'm being defamatory, or being disgraceful, but I saw all those immoral acts during my 17 years there.
"And I will never again abet in such things," she said.
As such, she requested that Jawi to carry out raids at the hotels in Kuala Lumpur during the Umno AGM, which is scheduled to take place from Dec 5 to 9 at the Putra World Trade Centre.
It was reported in early November that Wan Asshima had quit Umno to join PAS, despite purportedly being offered a RM1.5 billion project.

Malaysiakini