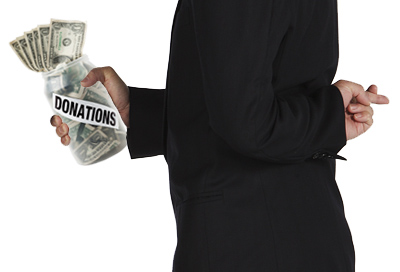 Today every Tom, Dick and Harry are into the business of asking for donation.
I am surprised by the amount given by generous donors beside the famous unknown for my beloved Prime Minister RM2.6 billion to use as he pleases.
When a leader is corrupted, the ones below too are corrupted. This is the truth.
Everyday I meet people who are up to no good.
Today I find woman are the biggest and bravest soul to do that in big scale.
Recently I met one who can talk through her soul getting donation in big figures.
Within two months over RM200,000 was promised and collected.
People whose names were used to collect the donation were given good accommodation and food in return.
If this continues the whole building will be hers for free next year.
It would be wise if donors do a proper investigation cum profiling on the person asking for donation especially in huge figures.
Advice to those wanting to help - WALK AWAY.
THOSE SO-CALLED KIND SOUL HELP THEMSELVES BEFORE OTHERS.
TODAY EVERYONE WEARS A MASK.