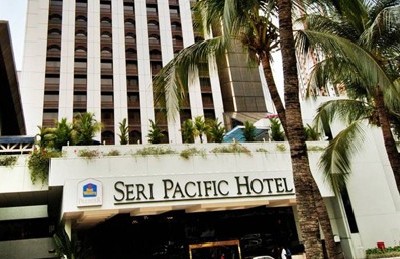 KUALA LUMPUR — Seri Pacific Hotel general manager Mohamad Halim Merican wants an explanation from Kuala Lumpur City Hall and
the police after participants of the Red Shirt rally barged into the hotel.
Halim said the authorities had assured hoteliers the rally would not affect them and the crowd would take carefully planned routes, but that was not the case.
He claimed that from 6.30am, people began loitering around the hotel and sleeping in the lobby.
He said the hotel's bookings had dropped by 10 per cent after about 60 bookings were cancelled this week due to concerns over the rally.
Halim, who is also Malaysian Association of Hotels and Malaysian Association of Hotel Owners vice-president, said the briefing by the authorities on Monday painted a good picture of the rally.
"The way they explained it, it was as if (Barack) Obama was coming to town. But look what happened," he said, adding that the crowd which had gathered at the Putra World Trade Centre was supposed to move to Padang Merbok via Jalan Kuching and not Jalan Putra, where the hotel is located.
Halim said he did not take any preventive measures because he trusted the assurance given by the authorities.
"If I knew these people would spill into the hotel, I would have stationed more security guards and put up a barricade at the entrance.
"We have our guests to take care of. We have escorted some guests out of the hotel as we were worried of their safety," he said.
Halim said the crowd had become rowdy when the hotel turned off the lights of the washrooms and denied them entry.
"One guy shouted he would break the bathroom door. One toilet bowl was broken," he said.