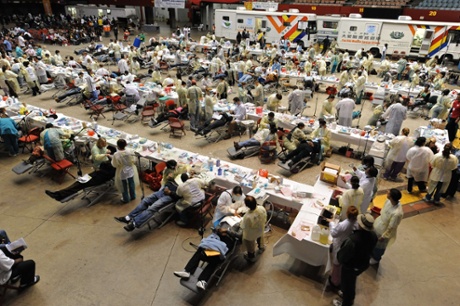 Photograph: Robyn Beck/AFP/Getty Images
When was the last time you visited the Government Clinic, Dentistry or Hospital?
How long did you had to wait before it is your turn? Did you actually had the privilege of
being checked by a DOCTOR?
Yes our Doctors are never around. The ones we see are housemen or interns.
Our Doctors are too HIGH CLASS to see us folks.
What I hate the most is the Dentistry. It takes many visit or long date appointment to do a
simple filling.
Our Government Clinic got way too many staff. Everyone seem to be busy doing nothing
or
unnecessary work.
The dentistry I visit has more than 10 staff but none can do a simply filling on the same day.
After reviewing the fate of my teeth I am told to come back in 1 or 2 months time. So what
happens if I have 2 teeth that need filling? I have to make another appointment after the
first
teeth is filled.
SO FOR TWO TEETH IT TAKES AROUND 3 MONTHS TO DO FILLING.
WHEREAS IF I HAD GONE TO A PRIVATE DENTISTRY, MY TWO TEETH WOULD
HAVE
TAKEN JUST 15 MINUTES TO FILL BUT POORER BY RM200.